Integration
We realise that many companies use a number of different applications for a number of different purposes, therefore we have built our system in a way that allows easy integration with numerous applications, giving you the peace of mind that AIntranet can adopt whatever role you require it to adopt.
Atlas Integration
Aintranet is set-up to seamlessly integrate with all of Atlas Products International's solutions, providing both existing Atlas clients with reporting and analysis of their data, and providing Antenna clients with secure and trusted EDI from one of the major players in the UK market. Get in touch with us to find out which solution would be best for your company.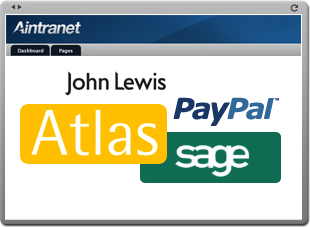 John Lewis
Are you expanding into a department store or setting up concessions? Have you decided on the lines to sell? Arranged the distribution? Taken on new staff to deal with the orders and invoices?
You may think that the hard part is over once you're in the door, however in reality that is when the hard part begins. Who is monitoring the concessions' performance, you or the department store? How do you accurately manage your stock without relying on the department store, or visiting each site on a weekly basis? What reports do you need to generate, and when?
We have experience of setting up suppliers to conform with the high demands of the large department stores such as John Lewis and House of Fraser, with minimal impact to existing operations. Whether you want to run two separate inventories or merge everything together, whether you need to reduce the time spent on the paper work to focus on other channels or whether you simply don't want to be chasing staff or the department store for reports, we can help. From providing the hardware and the back-end systems to liaising with GS1 to arrange your bar-codes, or analysing the sales data to identify trends and correct product mixes, we can help at every step of the way. Click the "contact us" button to speak to one of our advisers who will be happy to discuss your requirements.
Sage Integration
With Sage being the most widespread and popular accountancy application within SME's in the UK, we have developed AIntranet to work in conjunction with Sage, providing our clients with the best of both worlds, accurate and easy to use Stock and Sales management, with a world renowned accountancy package.
Paypal
With the increase of e-commerce, online stores and web savvy customers, it is more important now than ever to offer your clients a secure and well known method of paying for their goods over the internet. Whether you are selling direct to the public or B2B Paypal offers this solution, a global payment method with the highest security available. AIntranet can link into your Paypal e-commerce system to provide you with one integrated solution to handle all aspects of your business.